Who We Are | Faculty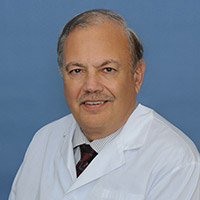 Professor of Medicine
Chief, Division of Hematology/Oncology
Director, Clinical/Translational Research
Jonsson Comprehensive Cancer Center
David Geffen School of Medicine at UCLA
Dennis J. Slamon, MD, PhD serves as director of Clinical/Translational Research, and as director of the Revlon/UCLA Women's Cancer Research Program at JCCC. He is a professor of medicine, chief of the Division of Hematology/Oncology and executive vice chair for research for UCLA's Department of Medicine. Slamon also serves as director of the medical advisory board for the National Colorectal Cancer Research Alliance, a fund-raising organization that promotes advances in colorectal cancer. For 12 years, Dr. Slamon and his colleagues conducted the laboratory and clinical research that led to the development of the new breast cancer drug Herceptin, which targets a specific genetic alteration found in about 25 percent of breast cancer patients. To acknowledge Slamon's accomplishments, President Clinton appointed Slamon to the three-member President's Cancer Panel in June 2000.
A 1975 honors graduate of the University of Chicago's Pritzker School of Medicine, Slamon earned his PhD in cell biology that same year. He completed his internship and residency at the University of Chicago Hospitals and Clinics, becoming chief resident in 1978. One year later, he became a fellow in the Division of Hematology/Oncology at UCLA.
Dr. Slamon has been awarded the 2019 Lasker-DeBakey Clinical Medical Research Award for the groundbreaking development of breast cancer drug Herceptin (trastuzumab). He shares the award with H. Michael Shepard, an American cancer researcher honored for work he completed at biotechnology company Genentech; and Axel Ullrich, a German cancer researcher from the Max Planck Institute of Biochemistry.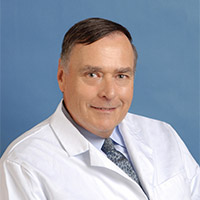 Professor of Medicine
Simms/Mann Family Foundation
Chair in Integrative Oncology Jonsson Comprehensive Cancer Center
Geffen School of Medicine at UCLA
John Glaspy, MD, MPH, is professor of medicine at the Jonsson Comprehensive Cancer Center (JCCC) of the University of California, Los Angeles (UCLA) School of Medicine. Dr. Glaspy has been the Estelle, Abe, and Marjorie Sanders Endowed Chair in Cancer Research and now holds the Simms Mann Family Chair in Integrative Oncology.
Dr. Glaspy is a member of the American Society of Clinical Oncology, Southwest Oncology Group, American Federation for Clinical Research, International Society of Interferon Research, and American Society of Nuclear Medicine, among others. He is also a fellow of the American College of Physicians. During the course of his career, Dr. Glaspy has authored more than 400 articles, abstracts, and book chapters. He has received numerous awards and honors, including being named one of the "Best Doctors in America."
Currently, Dr. Glaspy is involved in clinical trials of therapies for melanoma and breast cancer as well as supportive care trials. He is also involved in health services research exploring quality of care improvement and financial toxicity for patients. Dr. Glaspy received his MD from the UCLA School of Medicine and his MPH in health services administration from the UCLA School of Public Health. He completed his residency in internal medicine and his fellowship in hematology and oncology at the UCLA School of Medicine.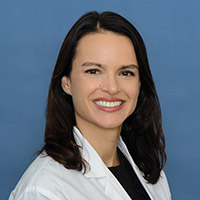 Assistant Professor of Medicine
Hematologic Malignancies and Stem Cell Transplant Program
Director, Hematology/Oncology Fellowship Program
Division of Hematology and Oncology
David Geffen School of Medicine at UCLA
Dr. Sarah Larson is an Assistant Professor in the Division of Hematology-Oncology at the David Geffen School of Medicine at UCLA. She received her medical degree at the University of Minnesota and completed her postgraduate training at the University of Chicago and UCLA. During her fellowship at UCLA, Dr. Larson studied the function of chimeric antigen receptors in hematopoietic stem and progenitor cells under the mentorship of Dr. Donald B. Kohn. She joined the faculty at UCLA in 2013 and her research focuses on development of novel therapeutics and engineered cell therapy trials for mature B cell malignancies. She is currently the Director of the Multiple Myeloma Program and the Director of the Hematology-Oncology Fellowship Program.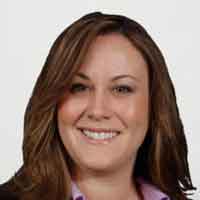 Health Sciences Clinical Instructor of Medicine at UCLA
Dr. Amy Cummings is a hematologist and medical oncologist who practices in Westwood and Torrance. In Westwood, she sees lung cancer patients as part of a multidisciplinary team one day a week and runs clinical trials. In Torrance, she sees patients with all types of cancer and offers virtual visits through the telehealth program. Her clinical interests include immunotherapy, precision medicine, and providing equitable care to all patients regardless of race, ethnicity, sexual orientation, and gender identity.
In addition to her clinical work, Dr. Cummings is a research scientist with a focus in bioengineering. She is interested in how technology can benefit patients, and specifically, how informatics and clinical data can be used to improve treatment decisions, access to medical care, and ultimately, patient outcomes. She also studies why immunotherapy works in some cancers but not others. She is an active member of the American Society of Clinical Oncologists, the International Association for the Study of Lung Cancer, and the American Association for Cancer Research, in addition to other professional organizations.
Dr. Cummings received her medical degree from the Keck School of Medicine at the University of Southern California where she graduated with honors and was elected to the Alpha Omega Alpha Honor Society. She completed both her internal medicine residency and her hematology and oncology fellowship at UCLA. During her training, she served as Chief Fellow for the Hematology and Oncology Fellowship and co-Chief of the Specialty Training and Advanced Research (STAR) Program as well as received the Olga Levin Inspiration Award in 2016 and a National Young Investigator's Award for lung cancer in 2019.
A Southern California native, Dr. Cummings enjoys the beach, live music, and spending time with her family when she is not working.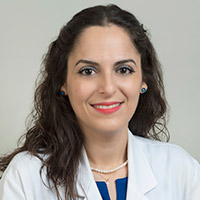 Associate Professor of Medicine and Urology
Medical Director of the Genitourinary Medical Oncology Program
Co-Leader of Genitourinary Research, Jonsson Comprehensive Cancer Center (JCCC)
Division of Hematology/Oncology and Institute of Urologic Oncology UCLA
Alexandra Drakaki is an MD, PhD and board certified Oncologist / Hematologist. She received her training in Internal Medicine at a Tuft's University affiliate program while she completed her hematology / oncology training at Beth Israel Deaconess Medical Center at Harvard Medical School and her research fellowship at Dana Farber Cancer Center Harvard Medical School in Boston. She specializes in genitourinary cancers and specifically cancers of the bladder, testis, urethra, prostate and kidney.
She is the Primary Investigator in several ongoing clinical trials that are testing novel drugs in the field. Her research interest is studying the role of a novel class of genes, named non-coding RNAs, including microRNAs and linkRNAs in genitourinary malignancies.
Furthermore, she is part of the Translational Oncology Research Laboratory at UCLA in which researchers are working on drug development by using novel technologies for breakthrough discoveries.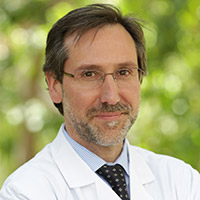 Professor of Medicine, Surgery, Molecular and Medical Pharmacology
Director, Tumor Immunology Program, Jonsson Comprehensive Cancer Center (JCCC)
Director, Parker Institute for Cancer Immunotherapy (PICI) Center at UCLA
University of California Los Angeles (UCLA)
President, American Association for Cancer Research (AACR)
Antoni Ribas, M.D., Ph.D. is Professor of Medicine, Professor of Surgery, and Professor of Molecular and Medical Pharmacology at the University of California Los Angeles (UCLA), Director of the Tumor Immunology Program at the Jonsson Comprehensive Cancer Center (JCCC), Director of the Parker Institute for Cancer Immunotherapy (PICI) Center at UCLA. Dr Ribas is a physician-scientist who conducts laboratory and clinical research in malignant melanoma, focusing on gene engineered T cells, PD-1 blockade and BRAF targeted therapies.
His National Cancer Institute (NCI), State of California and foundation-supported research laboratory is focused on melanoma and studies mechanism of action of treatments and therapy response and resistance. He has been instrumental in the clinical development of several agents approved by the FDA, including pembrolizumab (Keytruda), tremelimumab (Imjudo), vemurafenib (Zelboraf), cobimetinib (Cotellic), dabrafenib (Tafinlar) and trametinib (Mekinist).
He is the recipient of AACR Richard and Hinda Rosenthal Award, William B. Coley Award from Cancer Research Institute (CRI), AACR-CRI Lloyd J. Old Award in Cancer Immunology, two NCI Outstanding Investigator Awards, was awarded a Doctor Honoris Causa from the University of Buenos Aires and the Free University of Brussels, and was profiled as one of the five Visionaries in Medicine by the New York Times (May 27, 2018), and Great Immigrant by the Carnegie Foundation. He is past-president of the American Association for Cancer Research (AACR), an elected Fellow of the AACR Academy, the Royal Academy of Medicine of Catalonia, the American Society of Clinical Investigation, and the National Academy of Medicine.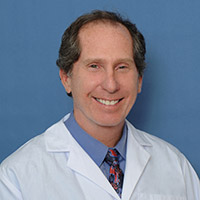 Health Sciences Clinical Professor of Medicine
UCLA Division of Hematology-Oncology
Director, Developmental Therapeutics Program
Medical Director, Santa Monica Outpatient Oncology Clinics
Medical Director, Inpatient Oncology Unit, Santa Monica UCLA Hospital
Lee Rosen, MD, FACP is Health Sciences Clinical Professor of Medicine in the Division of Hematology-Oncology, Department of Medicine. He has a longstanding interest in the treatment of gastrointestinal malignancies, specifically in the area of new drug development. Dr. Rosen completed his residency and fellowship in hematology/oncology at the UCLA School of Medicine in 1996, joining the full-time faculty immediately thereafter. He created and directed the Cancer Therapy Development Program, designed to coordinate translational/clinical research of new cancer treatments. Some of the first drugs he and his team worked with were designed for gastrointestinal cancers, so he and colleagues created a group dedicated to treating these diseases in a coordinated fashion. He also became interested in so-called "targeted" therapy, whereby cancers could be attacked by agents with a more rational drug design and the avoidance of toxicity to normal cells. He has worked with angiogenesis inhibitors since their first appearance in the clinic and other molecules inhibiting signal transduction, and more recently those in the fields of immunotherapy and rational drug design. He remains interested in the design and conduct of clinical trials to promote understanding of pharmacodynamics and the rapid and safe conduct for cancer patients of all backgrounds and ages.
Dr. Rosen and his group rejoined the Division of Hematology-Oncology at UCLA in 2011, having left to create Premiere Oncology, a private research-based practice. He now directs our Drug Development Program, the inpatient Solid Oncology service and co-directs the outpatient cancer center in Santa Monica. He participates actively in the Gastrointestinal Malignancy multi-specialty groups. He continues his active clinical practice and his search for new, hopefully less toxic and more effective ways of treating cancers. His many clinical trials are open to patients with a range of malignancies and there are many new trials coming soon.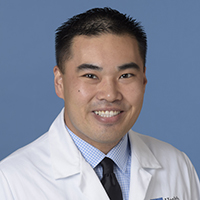 Assistant Professor, UCLA
Dr. Shen completed a combined fellowship in medical oncology and geriatric medicine at UCLA, where he also served as chief fellow. He is part of the genitourinary program, focusing on cancers of the prostate, kidney, and bladder, as well as improving access to clinical trials for older adults. He also leads a geriatric oncology clinic that prioritizes geriatric assessment, multidisciplinary and supportive care.
As part of the fellowship committee, Dr. Shen supports wellness, resiliency, quality improvement and safety initiatives. He also mentors medical students and residents as part of the Academic Medicine College at David Geffen School of Medicine at UCLA.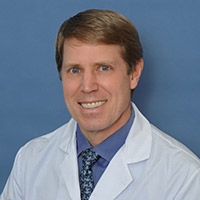 Division of Hematology & Oncology, Department of Medicine
David Geffen School of Medicine at University of California, Los Angeles
Member, Tumor Immunology Program Area, UCLA Jonsson Comprehensive Cancer Center Los Angeles, CA
Dr. Timmerman received his MD from Boston University School of Medicine. He completed his Residency in Internal Medicine at UC San Francisco School of Medicine, and Fellowship in Medical Oncology at Stanford University School of Medicine. Dr. Timmerman's research focuses on immunologic approaches to treating lymphomas and related cancers. Strategies tested against lymphomas have included the use of immune checkpoint blocking antibodies (anti-CTLA-4, anti-PD-1), costimulatory antibodies (anti-4-1BB), novel anti-CD20 antibodies, chimeric antigen receptor (CAR) T cells, antibody-interferon fusion proteins, toll-like receptor agonists, cytokines, and tumor antigen vaccines. These approaches are tested using small animal models, cultured human lymphoma cells, and in clinical trials. In 2018 he founded the Jaime Erin Follicular Lymphoma Research Consortium to study novel approaches for treating follicular lymphoma in collaboration with six other laboratory / translational lymphoma investigators throughout the U.S.