Curriculum | Conferences and Didactics
The fellowship program maintains a curriculum of weekly conferences and didactic lectures. During the first month of fellowship, first-year fellows attend a primer series designed to cover the basics. This series includes introductory lectures on evaluation of peripheral smears, basics of chemotherapy, and practicum on performing bone marrow biopsies.
Weekly didactics are held on Tuesdays and Journal Club are held on Thursday Mornings. For each conference a fellow is paired with an expert faculty member to present and review current literature and landmark papers on key areas of hematology or oncology.
Hematology –case conferences are held weekly on Friday mornings and provides a forum for case presentations by group of UCLA distinguished faculty on their area of clinical or research expertise.
Research Retreats: Two research retreats are held annually. In the Fall, second year fellows beginning the bulk of their research curriculum present and discuss their proposed research projects. Each Spring, second and third year fellows present progress updates on their projects.
Tumor Boards are interdisciplinary meetings to present new patients, review pathology and radiographic studies, and discuss evidence-based management; tumor boards are held weekly for each multidisciplinary disease-specific unit.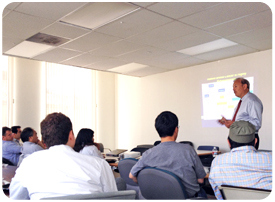 Weekly Grand Rounds are given by distinguished UCLA faculty on their area of research or clinical interest.