Clinical and Scientific Hematology/Oncology Training at UCLA
The objective of the UCLA combined Hematology and Oncology training program is to provide trainees with the necessary skills to be astute clinicians, educators, and future leaders in clinical, health policy, or basic science and translational research. As such, the 3-year training program is comprised of a total of 18 months of clinical service and 18 months of dedicated research. The work done during the research component of the fellowship program may be applied toward a Master's in Clinical Research or a PhD through the STAR program. UCLA is also one of four national sites for the Robert Wood Johnson Clinical Scholars Program. Fellows interested in careers in health policy research may complete a Masters of Science in Health Services through this program.
The clinical component introduces fellows to the full spectrum of hematology and oncology practice, including inpatient oncology, inpatient malignant hematology and bone marrow transplantation, consultative hematology/oncology, and outpatient rotations through a wide range of diseases in both general and sub-specialized clinic settings.
In addition, educational conferences and didactic lectures organized by the fellowship program and the Jonsson Comprehensive Cancer Center (JCCC) at UCLA are designed to provide a well-rounded education in hematology and oncology practice as well as clinical and basic science/translational research.
Together with the UCLA Division of Geriatrics, the UCLA Division of Hematology/Oncology also offers a combined 3-year geriatrics and oncology fellowship program.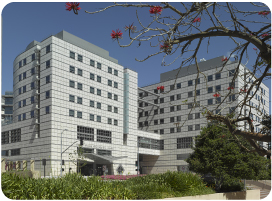 Ronald Reagan UCLA Medical Center, the main inpatient clinical training site for fellows.